Table 1. Minimum, average and maximum efficiency of the regenerative braking system in route 1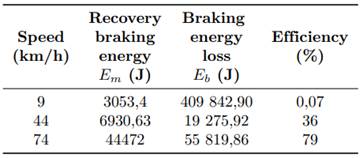 Table 2. Minimum, average and maximum efficiency of the regenerative braking system in route 2
Table 3. Minimum, average and maximum efficiency of the regenerative braking system on route 2
4. Conclusions
In this paper, an analysis of the regenerative braking system was carried out through real driving experiments, where variables such as: current, torque and speed influence with respect to the vehicle's energy recovery were considered in order to determine the efficiency and performance of the regenerative braking system. The difference between the routes is the type of road geography, the vehicle driving time and brake pedal actuation, so in route 1 it was possible to observe a greater energy recovery due to the factors mentioned.
With respect to the state of charge (SOC) of the vehicle, it was observed that the different powers used for each route and the type of geography are significant variables for a greater energy loss. The results obtained indicate that the use of the vehicle in route 2 has a progressive energy loss, which at a certain time tends to stabilize because of the greater use of the brake due to the high vehicular flow;
while in route 1 a small energy recovery was achieved due to the use of the brake due to the descent of steep slopes.
In the efficiency of the regenerative braking system, the results demonstrate that the type of road geography, initial braking speeds, brake usage, and vehicle mass are variables that greatly influence the efficiency of this system. Additionally, driving in route 2 is more efficient than in routes 1 and 3, as it has lower energy loss values and high energy recovery values.
References
[1] P. Spichartz and C. Sourkounis, "Influence of the braking system and the type of regenerative braking request on the energy consumption of electric vehicles," in 2020 Fifteenth International Conference on Ecological Vehicles and Renewable Energies (EVER), 2020, pp. 1–7. [Online]. Available: https: //doi.org/10.1109/EVER48776.2020.9242939
[2] J. D. Valladolid, D. Patino, G. Gruosso, C. A. Correa-Flórez, J. Vuelvas, and F. Espinoza, "A novel energy-efficiency optimization approach based on driving patterns styles and experimental tests for electric vehicles," Electronics, vol. 10, no. 10, 2021. [Online]. Available: https://doi.org/10.3390/electronics10101199
[3] T. A. Skouras, P. K. Gkonis, C. N. Ilias, P. T. Trakadas, E. G. Tsampasis, and T. V. Zahariadis, "Electrical vehicles: Current state of the art, future challenges, and perspectives," Clean Technologies, vol. 2, no. 1, pp. 1–16, 2020. [Online]. Available: https://doi.org/10.3390/cleantechnol2010001
[4] S. Heydari, P. Fajri, N. Lotfi, and B. Falahati, "Influencing factors in low speed regenerative braking performance of electric vehicles," in 2018 IEEE Transportation Electrification Conference and Expo (ITEC), 2018, pp. 494–499. [Online]. Available: https://doi.org/10.1109/ITEC.2018.8450260
[5] V. Totev and V. Gueorgiev, "Efficiency of regenerative braking in electric vehicles," in 2020 21st International Symposium on Electrical Apparatus & Technologies (SIELA), 2020, pp. 1–4. [Online]. Available: https: //doi.org/10.1109/SIELA49118.2020.9167153
[6] Y. Wang and Y. Su, "A research for brake strategy based on fuzzy control in pure electric vehicles," in 2015 4th International Conference on Computer Science and Network Technology (ICCSNT), vol. 01, 2015, pp. 689–693. [Online]. Available: https://doi.org/10.1109/ICCSNT.2015.7490838